New Paintings
Back in the Studio
Just to update the re-roof watchers: I'm back in the studio and painting again.
It's going to take a couple of months to get it back to rights following the renovations, mostly because I have to concentrate on getting paintings finished right now. So until I rescue and de-debris most of my boxes, I've set up half of the studio to work - like so: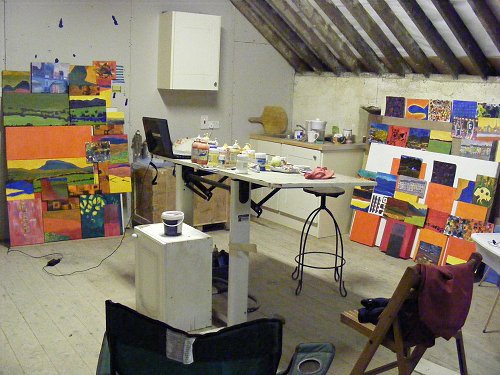 You're looking at 2 walls of paintings in progress. There are more not in view. The latest plan is for some of these to be posted in an online sale over the next couple of weeks, and others to appear in a show.
I'll keep you posted.
The building itself is still a construction site covered in scaffolding, with heavy renovations ongoing right outside my door, but I should be able to accept visitors again very shortly. In the meantime you can always have a look at the photos of how the studio and yard looked before the renovations began.