New Paintings
It's not Yogurt, it's a Camera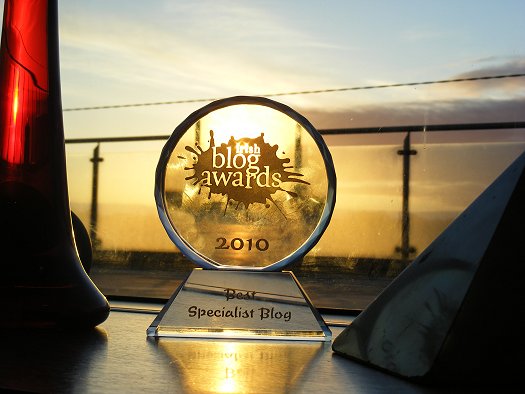 Twice in my life I've been given a bouquet of flowers. It didn't mean I was better than anybody who didn't get flowers those days, but it was nice.
And when the bar finally closed in Galway on Sunday morning, in time for this photo, taken as the sun rose to shine through my glass trophy onto my sausages, rashers and black pudding, well, it felt very nice.
I'm at my most self-absorbed when approaching a show. From the painting to the logistics, the fear of not being ready and, such is the oddness of showing pictures you've painted to people, the fear of actually being ready - I'm a nervous basketcase.
My brain shuts down all functions bar breathing and some limited movement. Sentences cannot be formed. Things will be dropped. My ears will refuse to tell my brain they've heard speech.
On Saturday afternoon, 22 of the 24 paintings going on display were yet to be wired. And labelled. Oh and signed. And my steel display framework was yet to be put up, in a room I find full of glass tables, with a fire escape right where I'd planned to erect it, and just 2 inches to play with for most of the ceiling area. I was nervous. Apologies if you spoke to me during this time. Or listened to me.
With the pain in my chest and the sickness in my stomach I was thinking that I will never put myself in this situation again. Never. And yet in a moment of lucidity during soundchecks while screwing eye-screws into canvases I caught myself almost dancing to Beyonce.
The sickly nervous stretch I got through, thanks only to support from friends in Galway, to encouraging words, just as my ears were shutting down, from FatMammyCat, and from help by Alexia and Clara.
But. You know when you go to a wedding and you manage to get in several great conversations? Well such is the energy and talent in the room, that the Irish Blog Awards is quite a good wedding.
You want to meet so many people. You fail to meet so many people. You actually see so many, and yet time permits only a nod, or a howaya, or a see ya in a few. And yet still the main reason Sunday felt so fantastic - ignoring, if you will, drinking until breakfast - was the conversations I did fit in.
It's impossible to recount all but some of the longer moments I got to enjoy were with Maman Poulet, Walter, Sentence first, Val's Kitchen, Sweary Lady, Website Doctor, Lisamareedom, James Gallagher, Sniffle & Cry, Mr. M, Laughing Lion, Bock, Beanstalk, Nialler9>, Right Click Radio, Nick McGivney, The Voyage, Brian Greene, and Manuel Estimulo.
But it's so much more than that. There isn't a dead second in there. While I tried to direct comments at so many people I wanted to meet, I had countless people come up to me to make the nicest comments about paintings, photographs, the webcam, the cottage, the cycling, the cartoons, the studio, and most of all, the dog.
It was overwhelming.
Winning an award is lovely. Being in a group with these blogs is an honour:
• Sentence first
• Etsy Ireland
• Ronan Lyons
• Journeying Beyond Breast Cancer
• Organic Growing Pains
Thanks to everyone who helped me and who put up with me. The Radisson staff were great. Thank you to those who played in my free painting thing - I'll announce the winner shortly. Thank you to those who bought paintings. Thank you to those who laughed at this Irish blogs painting or took a photo of me.
Thank you Conor O'Sullivan & iQ Content. Thank you to the judges for wading through my little world that is Bicyclistic. Thank you for the dozens of tweets that greeted me after I watched the sun rise, and continued to pour in since.
Thank you to those I've ignored while getting ready for the show. Thank you to everybody who contributed to making it such a superb night, including red shoes, videos, and props.
Most of all thank you to Damien for the kind words about the paintings, for including me in the event, and especially for putting on the event.
Never again? I'd do it tomorrow.