New Paintings
Irish Blogs 2010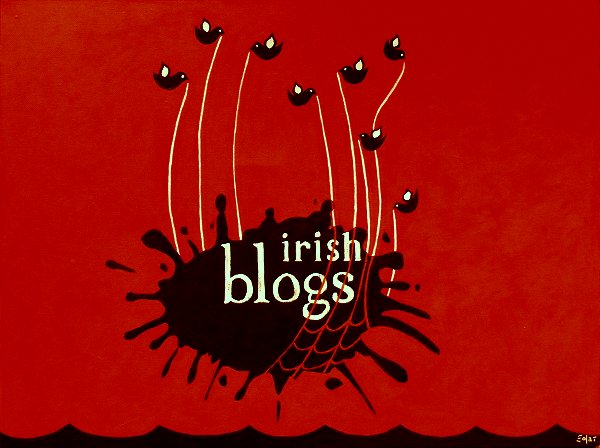 And what a weekend that was. I'm not really sure where it started.
In the early hours of Friday morning, towards the end of the final 48-hour painting session where I tried to finish 5 million paintings for the Irish Blog Awards Show, I started painting this picture on Irish blogging while on a tea break.
When brushes were downed and I was headed to Galway, a couple of more tea breaks from painting the real paintings meant that this picture was by then a blotchy red underpainting with the ink splash from the Irish Blog Awards logo.
In Galway I woke up at 4am, and added the text and the twitter fail whale elements of the birds, net, and waves. About noon on Saturday, the day of the awards, I finished the red background and went to the hotel for set up.
And then, my nerves aside, the weekend just got better and better such is the quality of people that were at the 2010 awards. But more on all that later.
The photo is not great, with the bluey black coming out brown, but you get the gist.
Update: See all the paintings exhibited at the Irish Blog Awards 2010 at the Radisson Blu Hotel in Galway.
Update: It's not Yogurt, it's a Camera - my time at the 2010 Irish Blog Awards.