New Paintings
A Look Inside My Studio
My studio is a loft in a stableyard in Dublin West. Close to the border with Kildare, it is located on a country estate overlooking the Liffey.
Update [March 2010]: See an audio slideshow video of me in my studio
Update [August 2009]: An album of photos of the interior and exterior of my studio is now posted.
I work best with plenty of space, and as this photo from November 2008 shows with my stuff mostly still in the boxes that I packed in America over a year earlier, my studio does have space.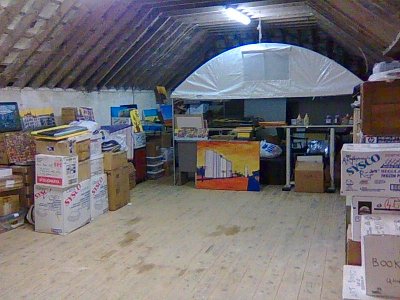 But even without unpacking most stuff, I do tend to fill the space fairly quickly. This was taken on Saturday gone, but it's been looking like this for 2 months now: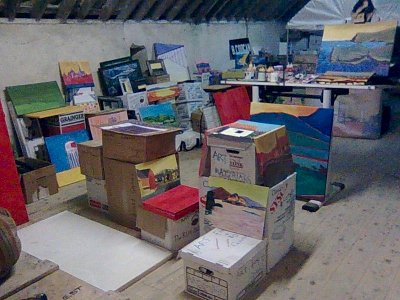 I've partly erected my art tent in there for, em, organisational reasons. It's 10ft x 10ft and not as dark as this suggests: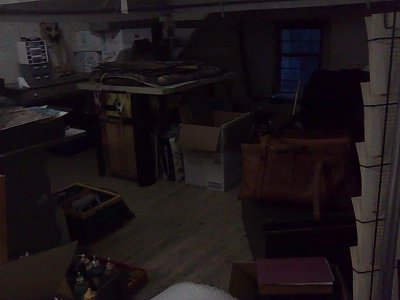 Like most boxes of art materials, my boxes of art books are not yet unpacked: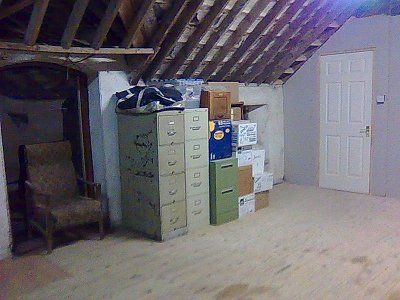 That's plexiglass in the loading doorway; it left one windy night in an Omen-like flight. The landlord is currently making a heavy duty door. He has put that internal wall and door in since I moved in, and installed a shower and toilet on the other side.
This is the sink corner, still awaiting the sink, but it has all those groovy pipes whatever they do. Please don't tell me what the pipes do - I hate pipes as much as I hate wires.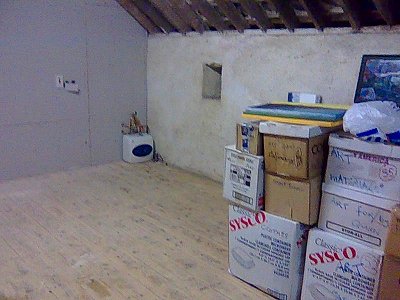 There is a sink in the jax, which has made making tea a lot handier than heading outside to the taps in the yard, but a deeper sink specifically for the studio is on the way.
Much as I like the location of the studio, and its windows, I spend practically no time looking out them instead preferring to walk around the studio and looking at paintings in progress from different distances: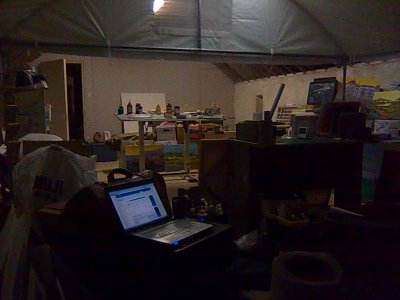 The plan is to make it hospitable for visitors, as quite a few people have expressed an interest in visiting. It will be a lot more manageable when all the boxes of art materials are unpacked and the contents shelved. I have a couch going in, around which I will organise the art display bins, art books, and drinks cabinet.
I'll let you know when it's in good shape for visiting.
Oh, and when I say drinks cabinet, I mean cooler.
Have a look at the beautiful exterior of the studio and the stableyard it's situated in.
See Also: Paintings