Cartoons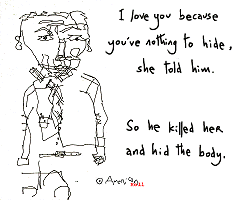 I have a cartoon website where I post single-panel cartoons. It's called American Hell.
Strictly speaking American Hell focuses on love (gone wrong) and technology (gone too far), but hey, they're cartoons - and they're mine - so they can be about anything I want them to be.
Readers suggest names for me to use in the cartoons, so they can taunt their partners before they kill them presumably, and to date I've received well over 300 suggested names. So far, I have put over 150 of them into cartoons.
American Hell also has a page on FaceBook. And if you want to keep up with the new cartoons via twitter you can follow me @eolai or, if that's way too much guff, then you can follow @AmericanHell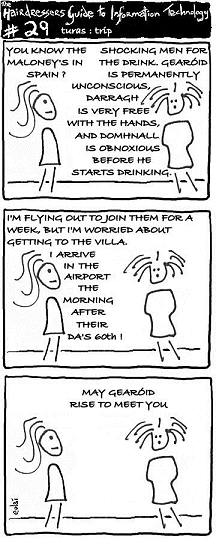 Even more crudely drawn, if possible, is a series of 3-panel cartoons I did over on IrishKC called The Hairdressers Guide to Information Technology. It's a Myles na gCopaleen Keats & Chapman puntastic look at Irish-American groupiedom.
Although I haven't done a new HGIT for ages, I'm not finished with it yet.
Like everybody I have cartoon strips in development, 2 of them in fact. One has been festering in my head for 10 years, the other for 20 though having a decade headstart it has made it as far as paper. If I ever bring either to online life, here on Bicyclistic is where I intend to do it.
If you upset me I'll put you in a cartoon. Or if you just look funny.