New Paintings
Studio: Washing the Art Tent Roof
The scaffolding on my studio I'm told is coming down. Apart from using it as an extended balcony, I found another use for it.
The reason I first erected the art tent inside my studio was due to a combination of paranoia about leaks after my Donegal experience and for protection from permanently falling plaster from the slates.
As it turned out it also protected paintings from bird poop, and ultimately from the avalanche of rubble when the studio was being re-roofed.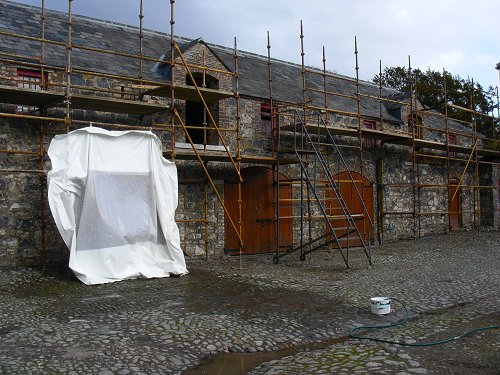 Alas this scene is not quite as perfect as it looks, for the water pressure was turned down and the hose was just that bit short. Yes I tried sticking my finger every which way you can imagine but throwing buckets of water and scrubbing was the only way to wash the roof of my art tent.
Meanwhile inside the studio is being transformed; Before too long I'll post photos of how it's now looking.
See Also
• Graffiti Doors of Dublin Lanes
• My Studio: An Audio Slideshow
• Dublin Walls, A Photo Essay
• Loads of Photos