New Paintings
Free Painting on Friday
To celebrate the launch of Bicyclistic I thought I'd give away a painting.
I'll ask a question and the person with the winning answer can choose a painting for free from a pool of 13 paintings, all of which are currently priced at 45USD.
[ Update: Competition over. Scroll down to see winner ]
[Update eile: See Prize Pool of Paintings (and Question 2) ]
The winner can choose 1 of the 9 available mini-animals such as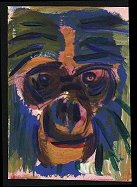 'Bonobo' pictured here. (That link will take you over to IrishKC - don't be alarmed; I just can't be bothered copying all the images over to here).
Or the winner can choose 1 of the 4 available mini-landscapes such as '3 Cottages, Green Fields' pictured here.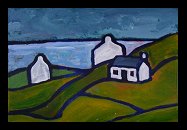 These are small paintings, and I post them in an archival sleeve with a temporary mount on archival matting board. You can see a photo on IrishKC of some examples I sold earlier.
The Question
In 1996 I set off from Boston on a bicycle. On IrishKC I have been serialising excerpts from the journal I kept of that cycle across America. The most recent part of the journal I posted was #71 Arizona. What is the total number of miles cycled from the start of the trip up to and including part 71?
[Note: I had #72 instead of #71 - it was just a typo as the most recent part posted & linked to is 71 ]
Leave your answer in the comments below. I'll shut it off at 8pm (Irish time) on Friday. The closest answer wins. In the event of a tie I'll go with whoever answered first. You only get one entry, and other common sense rules apply.
If geography isn't your strong point, you could always find the most recent journal entry where the cumulative total is mentioned, and then add on the miles for all the days since then. As I don't necessarily publish daily mileage totals, that's a lot harder than it sounds.
And now I have to head off to the studio to find out the answer - which I have on a piece of paper in a box somewhere.
UPDATE: Competition is now closed.
We Have a Winner!
Here's a photo of my contemporaneous notes I made of the figures my trusty cyclometer was telling me I was cycling. The latest journal entry posted on Irish KC is "#71 Arizona", which documents leaving Lordsburg in New Mexico and finishing up 80 miles later in Safford in eastern Arizona. The cumulative total miles cycled from Boston to Safford, AZ is ringed below:



With 4,670 I make it we have a winner just 12 miles out and pipping the next person by a mere 5 miles. Correct me if I'm wrong.
I make it that TheChris D, the very first entrant, wins. Hard luck especially to David, Manuel, & Xavier Onassis, who all were close behind. And thanks a million to everyone for participating. I will definitely do that again (indeed I deliberately blacked out the next entries just in case I use the same method - the cycle continues westward and I'll resume posting journal excerpts of it.)