New Paintings
The Twug - My Twitter Mug
A couple of weeks ago, before Walter of sxoop created his very cool mosaic-making tool for Twitter followers, I cadged together a mosaic of some of my favourite Twitter followers and followees using Hahlo and a very old version of Paint Shop Pro.
Then I sent the mosaic to Le Craic, and not much later he sent me my twug, my very own twitter mug. Are you on it?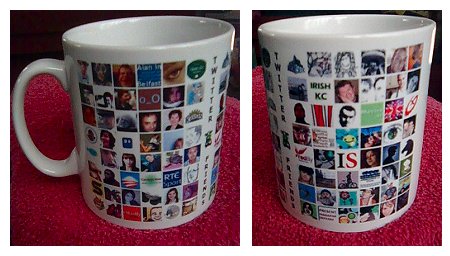 Much as I wish I'd thought of it, the idea was Le Craic's, and nope the twug is not dynamic - so when people change their avatars the avatars don't change on the mug.
The twug therefore is a snapshot of a perfect time online, a time we all know won't last, a time before you dropped so many followees and went back to life, back to reality.
[Update: You can now order your own twug from Le Craic]