New Paintings
Painting Giveaway #8: A Painting of Where?
This is a picture of a painting in progress. But of where is it a painting of?
I'll help you. Once upon a time I cycled alone across America. This is a scene from the trip. Or it will be when it's finished. So it could look very different.
Tell me what US state it's in, and what episode of my Cycle Across America journal it's from (of the 71 posted).
The 1st person to leave a comment telling me the correct State and Journal Post wins an original painting of their choice from the prizepool. (NOTE: If you're reading this on FaceBook go HERE)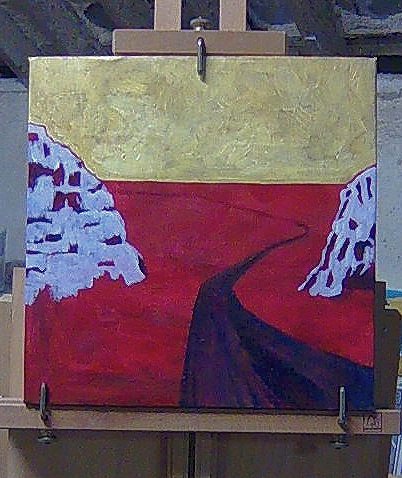 The prizepool was extended up to 20 paintings recently. They're also for sale so it's possible you could have a choice of less than 20 when the competition closes.
I suspect I'll leave your answers hidden in moderation because not only does it add great frustration excitement but it gives me a chance to take the dog out and to cycle to my studio without fretting about you. I'll probably tell you tomorrow who won, depending on answers - or I'll keep it open if nobody has won.
RESULT: We have a winner. There were 26 guesses, and I've addressed them all and given the answer with the result that one person has their choice of a pinting from the prizepool.
UPDATE: You can see, and indeed buy, the finished painting HERE