New Paintings
Painting: Blue September
The day after I finished my painting tour I was doing a painting workshop at the Lucan festival from where I was temporarily whisked away to Brittas Bay. The Wicklow excursion was for the Dip in the Nip for Blue September, where I was the official artist.
A night walk on the beach to get the feel of the location, and then it's sunrise and back to the beach. A couple of hours walking, photographing, listening, and just looking, at waves, the strand, and the sky, before watching the few seconds that was the short run of naked men into the autumn Irish Sea.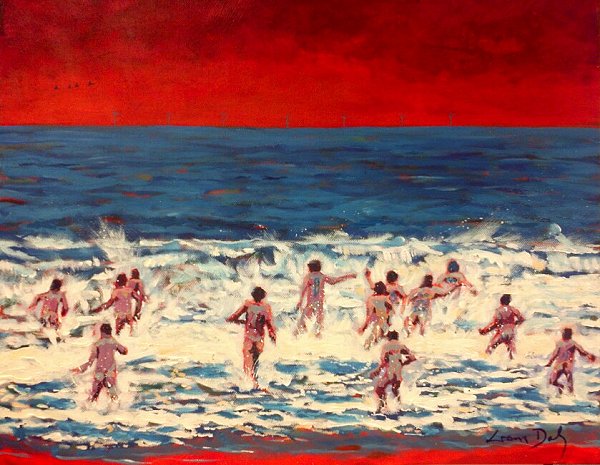 And yesterday I completed this painting of the moment and handed it over at the Blue September presentation at the sponsor Takeda Ireland in Grange Castle, Dublin.
Blue September is painted on canvas, 50cm x 40cm x 4cm (20in x 16in x 1.5in)
Blue September is a global initiative that encourages men to be more aware of their health and more pro-active in protecting themselves against preventable and treatable diseases. Blue September Ireland is involved in raising awareness of bowel, lung, prostate and testicular cancer, while fundraising for the following Irish charities; Cancer Care West, The Marie Keating Foundation, The Mater Foundation and The Mercy Hospital Foundation.