New Paintings
Vincent O'Brien Painting
Here's an old painting I thought I'd post to mark the passing of Vincent O'Brien last week.
I'm not certain but I think Racing Conversation may even be the first painting I ever sold. Certainly prior to selling it I wasn't in the habit of offering my paintings for sale.
Racing Conversation features the famous racehorse trainer in conversation with another trainer. I worked on the Phoenix Park Racecourse in the 1980s and my job included visits to the parade ring where O'Brien would have been a familiar figure.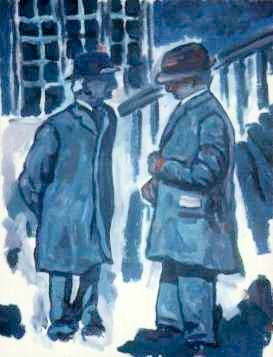 My grandparents lived on the racecourse (in this house) so the images of horse-racing are a big part of my memories of childhood.