New Paintings
Painting Giveaway #6 Name Those Animals
The painting below of The Claddagh in Galway sold at the last show. When I delivered it, their very young son asked me if the houses were for animals. Further into the conversation he explained that he had asked that question because he could see [drumroll] what kind of animals in the painting?
The 1st person in the comments below to identify the animals can have for free a painting of their choice from the prizepool. To be clear I'm looking for the type of animals e.g. duck-billed platypuses (not the right answer).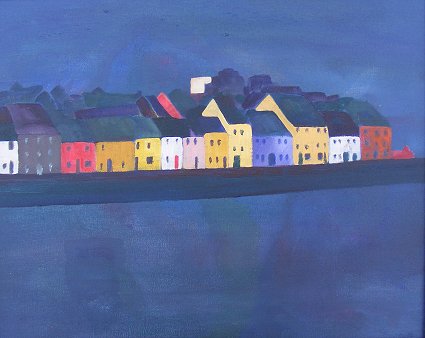 The competition will run for, probably not very long. And I think I'll leave your answers in moderation for a bit to add to the suspense.
Update: All answers are now released from moderation, and the 1st person with the correct answer was Raul.
I laughed at a lot of the answers, and many of them are not without merit, but the winning answer is the one that little Theo supplied to prompt me asking the question in the first place. If you're one of those who hasn't spotted what Theo did, here's the picture with the animals highlighted.
And I'd like to thank Theo for changing forever the way that I, and probably you, will look at that painting!