New Paintings
A Pint and a Haircut: True Irish Stories
A new book of true Irish stories, featuring a painting of mine on the cover, is currently being launched with all royalties going to Concern's Haiti fund.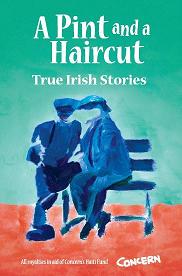 Garret Pearse was inspired to compile A Pint and a Haircut: True Irish Stories while reading Paul Auster's True Tales of American Lives when the story of the Haiti earthquake broke and producing an Irish equivalent occurred to him as a way to help.
Stories
There are about 70 stories in the book including stories by bloggers' Merc's World, Jane Travers, Women Rule Writer, Barbara Scully, Write Now Mom - and one by myself - A Kansas City Phone Call To An Irish Mother.
Buy
The book can be purchased online from the publishers Londubh Books or from your local book shop (if they don't have it tell them to stock it: It's being distributed by Eason Wholesaler and Argosy, ISBN 978-1-907535-16-1 )
Info
More information about the project can be read on the book's blog, and from Garret on the book's twitter account. There's also a great interview with Garret by Jane Travers on TweetTreats.
Concern
Haiti's most powerful earthquake in 200 years struck in January. All royalties from sales of A Pint and a Haircut are in aid of Concern's Haiti Fund. Read more about Concern's work in Haiti.
How Can You Help?
Apart obviously from buying the book, you can help by telling others about the book - post about it on your facebook account, twitter account, your blog if you have one, or good old-fashioned word of mouth. Also if you don't see it in a bookshop tell them to stock it.