New Paintings
Rookery
Rookery
SOLD
Here is the painting on which I based the question for painting giveaway #5. The painting is in acrylic on canvas with painted sides. I think it's 15 inches by 15 inches.
It was painted this month, April 2009 and depicts rooks in a tree where Dublin 20 meets Dublin 10. Indeed I think some of the rooks are in Ballyfermot, and some of the rooks are in Palmerstown.
See if you would have got the right answer to how many rooks are in the painting if you had seen it in the exhibition in the Rathmines Festival. The answer is down at the bottom of the post.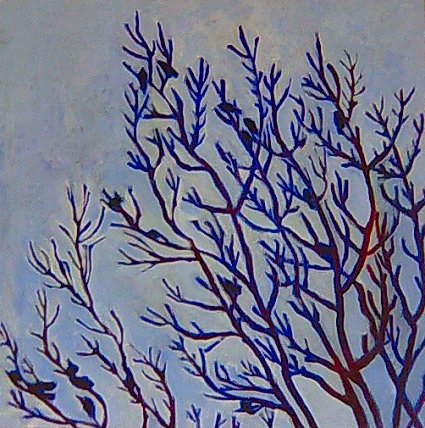 Here is a view of the painting from the side: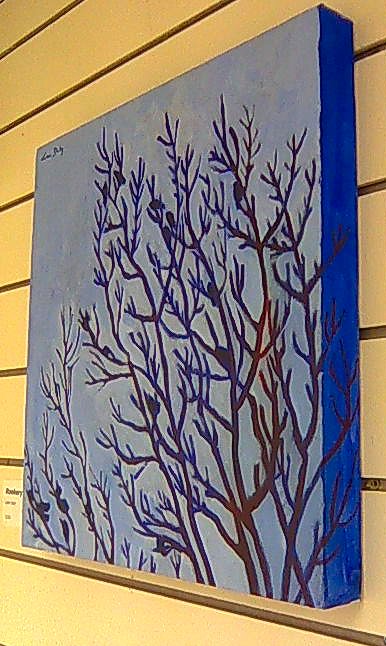 And here are the rooks counted for you. Trust me, the answer is right - I painted them: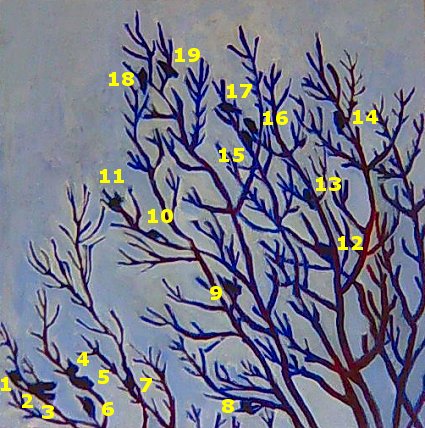 Nobody got the answer right with most people guessing low (AJ was late and 1 further out, jsilke guessed way too high when going with the number of waves, and Fernando spectacularly overestimated the amount of love in my heart) - and so the winner is the person with the closest guess to 19. That was 15 and Debbie guessed it first, before Sugar Britches did.
Debbie can choose a painting for her good self from the prizepool
With that exhibition over I'll start to add more paintings into the prizepool now and aim to run giveaways more frequently. Thanks for playing everyone.